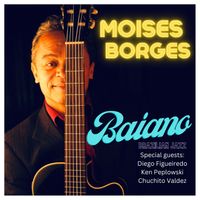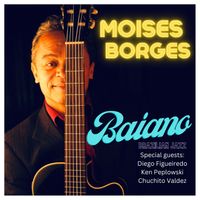 Tradução abaixo

"Pedir ao Santo" this smooth Bossa Nova tune plays a little bit with the Brazilian accents from Minas Gerais and Bahia states, speaking of a lost love that one would pray to get it back.

I wrote this poem about one year before putting music on it. When Diego heard it for the first time he immediately showed interest and on the next morning he showed me the harmonies ready.

That day I already had studio time scheduled for something else and we used it for this recording. As you see, everyone has a lucky day, haha.


PORTUGUES
"Pedir ao Santo" essa Bossa Nova suave brinca up pouco com os sotaques brasileiros de Minas Gerais e Bahia, falando de um amor perdido que voce rezaria pra te-lo de volta.

Eu escrevi esse poema cerca de um ano antes de colocar a musica nele. Quando Diego Figueiredo escutou essa musica pela primeira vez, ele imediatamente mostrou interesse, e na manha seguinte ele me mostrou as harmonias prontas.

Naquele dia eu ja tinha hora marcada no estúdio pra gravar outra coisa e nos terminamos usando o horário pra essa gravação.
Lyrics
SE UM DIA EU VOLTAR LÁ PRA BAHIA
If one day I go back to Bahia 

EU VOU NA IGREJA DO BONFIM
I will go on the Church of the lord of the good end 

VOU REZAR UMA PRECE COM ALEGRIA
I will pray a little prayer nice and happy 

PEDIR AO SANTO PRA VOCÊ VOLTAR PRA MIM
Asking the saint for you to come back to me

VOU VOLTAR
I will go back 

BAHIA, QUE É O MEU LUGAR
Bahia that is my place

EU VOU DE CAMISA AMARELA
I'm going on my yellow shirt 

SAUDADE DO MEU CARNAVAL
I miss my Carnival 

XINXIM, CARURU, VATAPÁ NÃO TEM IGUAL
xinxim*, caruru*, vatapá* are so unique 

UM BANHO DE FOLHA CHEIROSO
a bath on the good smelling leaves

OXÓSSI, OLODUM, SÃO JOÃO
Oxossi*, Olodum*, Sao Joao*

A BOLA NA PRAIA E VOCÊ NO CORAÇÃO
play ball in the beach and have you in my heart.

*Xim xim: Bahian combination dish including chicken, shrimp, nuts, coconut milk and palm oil.
*Carurú: Ocra dish also used as offer to Orixás, made with shrimp, nuts, lime juice, veggies.
*Vatapá: Another African heritage dish from Bahia, a pasty mix of bread, milk, ginger and peanuts.
*Oxóssi: From Candomblé is the spirit associated with the hunt, forests, animals and wealth.
*Olodum: Is a bloco-afro with many drummers from Salvador's carnival, in Bahia - Brazil.
Orixá: any of the minor gods or spirits of traditional Yoruba religion.